- Audio Recording Studio
Cornerstone and Blue Forest writes, produces songs and soundtracks for popular mainstream secular and Christian artists.  In addition to our studio located in Honolulu Hawaii, Cornerstone also collaborates with Los Angeles based, Blue Forest North studio.  Producer and music engineer, Simeon Spiegel from Blue Forest has worked with Fergie and Carmen Elektra. Blue Forest is has worked with Warner Bros., Dreamworks, BMG.  Artists they have worked with include Moby, Yoshiki, Peter Murphy.
Many times, music is the glue that brings a scene together, rounding out an emotion or punctuating a point. We understand how to find the right music to make the scene do what the client wants it to do. Our studios can create, find, produce and supervise all aspects of musical needs for a production. We can create or find music of any kind, no matter what you need. It does not matter if it is for a video game production, a five-minute promotional clip, a full-length movie or a commercial. Whatever effect you seek to create with music, we can do it.
Our experts are up to date with the latest technological advances. They can tune the sound to the style you seek. They can give a piece full surround sound or pick out a sound to come out of a single channel for an atmospheric effect. Whatever it is you seek for your sound needs, we provide it to meet your expectations.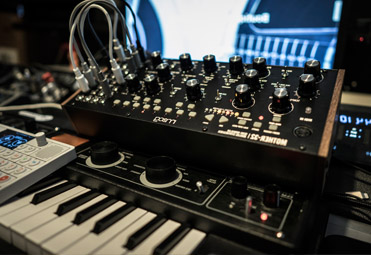 Affordable Rates!
Vocal Recording Technique
Neummann M149 Microphones
Protools and Logic